Volunteering
19 July 2022
Lovely Floral Displays
The displays around the village are looking lovely and thanks go to the team of volunteers who tend and water them, especially in this hot spell. We hope you enjoy the splashes of colour around the village.
13 February 2022
Volunteers keeping up the good work
West Parleys Volunteers were recently seen working on the road by the Memorial Hall in one of their twice weekly sessions going round the village improving the appearance and maintaining the safety of pavements and footpaths. The edges in Stocks Lane were trimmed back, removing leaves, soil and nettles returning the road to is full width.
Many areas have been cleared over the past few months including the pavements on New Road from close to the former Porsche garage to Parley Cross and a huge amount of fallen leaves were swept from the Recreation Ground, the Sports Club car park and the access road to the Guide Camp at Dudsbury. The Team of up to 14 Volunteers are currently working along Christchurch Road near Barrack Road.
Give them a wave if you are passing!
West Parley Volunteers keep the village looking good
The West Parley Volunteers, based on the Residents Association co-ordinated with the Parish Council, are very active in a number of different projects designed to make our lovely village an even more attractive place to live. Over 150 volunteers working in various groups are making a big impact on the appearance of the village, many of whom give a good deal of their time on a regular basis.
Here's a quote from an email from Matthew Reeks - Senior Ranger for East Dorset Countryside Management: "All I can say after yesterdays visit is EXCELLENT - i really can't tell you how refreshing it is to see such amazing local volunteering and being carried out off your own bats so to speak."
Be Part of the Team!
Become a Parish Councillor
This is going to be an exciting and challenging few years for West Parley, so why not join us as we currently have 3 vacancies. If you have some time to spare and are interested in helping the Parish Council represent the views of the local residents and enhance the community, get in touch. We would particularly welcome people with skills in finance, building work appraisals and developing social activities. If you would like an informal chat as to what is entailed, please speak to the Parish Clerk or any of our Councillors.
The West Parley Volunteers urgently need help for watering, litter clearing, pavement clearing. You would be doing it with others in a small team - and your turn only comes round every few weeks.

The West Parley NeighbourCar Scheme is looking for drivers, this excellent scheme plays a vital part in getting people out and about who might not otherwise be able to.
Contact:
John Dinsdale 01202 872974
West Parley NeighbourCar - Clive Butcher 07592 860104.
West Parley NeighbourCar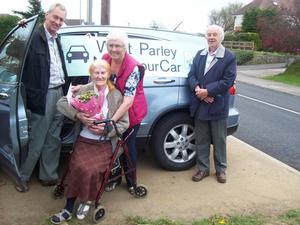 The West Parley NeighbourCar Scheme has now been running since September 2013 and has been very successful. So far they have carried out 2200 trips and have 12 regular drivers and 3 back-up drivers. The scheme operates for West Parley residents only over the age of 55 who are unable to get out and about and provides a lifeline to take them to hospitals, doctor's surgeries and other health care services as well as social visits to clubs in the area.
More drivers would always be welcome, and the scheme is very professionally run.
For more information either as a driver or a car user, email Transport Co-ordinator Clive Butcher or call 07592 860 104
Volunteer Awards 2019
The Parish Council's annual reception took place towards the end of 2019, where the West Parley Residents' Association (WPRA) Volunteers are thanked for their contributions in keeping West Parley at its best. The evening is quite informal seeing guests enjoy a light buffet funded by the Parish Council, along with beverages donated by local stores. It also gave an opportunity for the village's NeighbourCar scheme's co-ordinator, Clive Butcher, to make a plea for any additional volunteer drivers who could give up the odd hour each week to drive residents in need, so they can attend medical appointments. The Chairman of West Parley Parish Council, Cllr Philip Bamborough presented awards to all the recipients. . . full details of a great Volunteer Awards night.
Best Kept Village 2018
Residents in West Parley are celebrating a further success in the Dorset Best Kept Village competition gaining a third place in the Large Village section against some strong competition. The judges of the competition noted the effort made by the large number of village volunteers who maintain the road verges and public parks, who maintain the many roadside flower planters and litter pick in all weathers. Also noted were the efforts of the many residents who mow the verges outside their houses, the smartness of business premises and the All Saints Churchyard.
Volunteer Co-Ordinator John Dinsdale said 'This is a stunning achievement reflecting all the hard work and commitment from the huge number of volunteers we have here who are so keen to help maintain and improve the village. A particular feature this year are the much improved roadside planters that have been a constant challenge to maintain in good condition in the hot weather this Summer'.
The Working Party
Our happy band of volunteers work tirelessly throughout the summer tidying verges and cutting back overgrown vegetation, they also undertake a lot of work in the park, eg building up the bund as a traveller deterrent and planting bluebells to make it more attractive. They replant the troughs at Parley Cross and at Glenmoor Rd and the Porsche garage each spring and winter. They have started planting trees in New Road top replace the damaged ones and they are also continuing the work in Parley Woods, improving the pathways and cutting back vegetation.
We are very grateful to the many residents who anonymously cut the verges outside their own houses and those outside other houses to keep our verges looking tidy at this time of austerity when EDDC operates a reduced frequency of cutting.
A number of local companies and individuals have been very helpful and have enabled us to carry out many projects by providing materials etc, Eco Systems (compost, turf, top soil, machinery), New Milton S & G (Concrete). Some companies have donated trees to be planted on the village verges and Residents have purchased trees in memory of loved ones or donated them.
Working parties meet on two mornings each week and sometimes 3. Over the last couple of years these groups have cleared the main road pavements through the village to their original width and removed bambles and overgrowing weeds from the pavement. This is an on-going taskwhich needs constant effort to maintain the pavements in a clear condition. These groups have also planted more daffodils, which the Parish Council has purchased, in the roadside verges through the village and it is hoped that more daffodils will be addd over the coming months to provide an even better display next spring. The clearing of the Memorial Hall Garden has been another project undertaken by the Working Party who removed a great deal of debris and overgown shrubs to make the appearance of the Memorial Hall grounds more attractive.
Floral Displays
Floral displays on the railings at Parley Cross and in floor-standing boxes in New Road opposite the Porsche garage have been in evidence over the last two years and have made a very colourful spectacle throughout the year. Originally these planters were planted by Golden Acres Nursery but we have taken over the task of purchasing and planting the plants in the troughs and hanging baskets with all of the work being undertaken by volunteer residents. These troughs are maintained throughout the year by a group of volunteers who water the plants twice a week. Porsche personnel kindly provide and maintain the plants opposite their premises.
Volunteers involved in the project include: Mary Mogg, Jenny Mogg, Frank Trollope, Trevor Sams, Lynda Appleton, Chrissie Davis, Michele Williams, Dorothy Adams, Stuart Baker, Richard Heaslip and John Cullen.
We are very grateful to the owners of Herbies Chip Shop and Apple Conservatories at Parley cross for allowing us to use their water supplies for watering our planters and to Porsche for funding and maintaining the plantings outside their pemises.
Last year work was carried out to clear the area in Elm Tree Walk at the back of the Parley Cross shops, which had been very neglected. This involved weed and shrub removal, repair and re-painting of garage doors and the clearance of other debris. Weedkiller is now applied each year to maintain the appearance of the area. Volunteers involved in this work include: Richard Heaslip, Frank Trollope, Stuart Couper, Brian Miles, John Cullen, Brian Abbott, Jon Ladd, Stuart Baker and Derek Wright, John Mitchell, Mark Barratt.
Litter Clearing
Twenty or so volunteers, armed with litter pickers and black bags, carry out regular patrols of the village main roads to maintain a litter free environment. These volunteers are helped by many other residents who clear up the areas round their own homes in the residential streets.
These volunteers include: Mr and Mrs Shaw, Richard and Lorna Jean Heaslip, John Cullen, Trevor Sams, Mike Loader, Mimi and Denis Anderton, Mike Woodgate, Jan Sutcliffe, Brian Miles, Diana Penwill, Andy Steele, Michele Williams, Chrissie Davis, Dorothy Adams, Tony Elliott, and Mrs Widdicombe.
These volunteers are backed up by a large number of residents who carry out the essential task of distributing newsletters and other mailings several times a year and we are very grateful to them. The volunteers include: Pete Stimpson, Mr& MrsPeskett, Mr & Mrs Kempster, Barrie Thompson, Jean Khan, Pat Shaw, Dave & Linda Phillips, Mr & Mrs Parsons, Andy Steele, Diana Penwill, Dorothy Adams, Mr RW Preece, Roger Heath, Mr & Mrs Williams, Marjorie Marshall, Chrissie Davis, Kenny and Debbie Dalglish, Mr Cheshire, Mr & Mrs Hedges, Mr Durrant, Michele Williams, Mr & Mrs Butcher, Mary & Jenny Mogg, Mrs Angie Cherrett, Mr M Browning, Mr & Mrs Edwards, Viviane Bhagwanani, Dave Battson, Shiela Gooden, Mr & Mrs Bessant, Mike Woodgate, Peter Boonham, Mr Eastham, Mr & Mrs Couper, John Sharp, Mrs E Daw, Mr & Mrs Wright, S Roberts.
We are very grateful to each of these volunteers for giving of their time and efforts in order to make our village as attractive as possible. We can always accept further offers of help, particularly with litter picking and watering of plants, if only to make the duties of existing helpers come round a little less frequently.
All Saints Churchyard
From March to July last year we have been working in the historic All Saints churchyard, under the direction of the Churchwarden Derek Hyatt.
The group has levelled some sunken graves, cleared the area around the ashes stones, cleared the entrance to the church, painted the enbtrance gate, cut the hedge and is shortly to erect a fence to provide an area out of sight behind which visitors to the churchyard can place dead flowers and other debris from the graves.
This beautiful churchyard, the centre of West Parley's long history and such a serene and secluded place, is now looking very trim. All the gravestones are now clear of overgrowth and the approaches to the church are now neat and tidy.
The Rector wrote a thank you letter in July: "The churchyard is looking splendid and we are much indebted for all the fine work you have done in recent months. All Saints has a significance and a special place in the hearts of many people. Its most heartening that the care and concern of the wider community is being actively channelled. Please pass on our thanks to all your members. We look forward to continuing in partnership next year."
All this gets no pay! But a lot of fresh air, exercise, company, and the feeling that one is doing something for the community. And every Christmas we all have a festive get together at St Marks Church Hall. The organiser of all this volunteer work is now John Dinsdale 01202 872974, but huge thanks must go to Pat Couper and Alan MacDonald for all their past efforts in organising the volunteers.