Get involved!
Lovely West Parley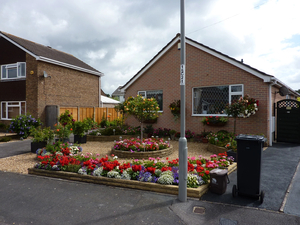 West Parley can be a good looking village with its neatly kept houses, the outlook on to fields and river, the many trees, grassy verges and flowers. We all chose to live here, and we would all like it to look its best.
Unfortunately, there are still people who don't care, and throw litter around. It seems a regrettable part of modern life. Also, pavements tend to grow over, leaving no room for two to pass. Or they get blocked by hedges and trees that have got out of control. We have volunteer teams who clear the litter regularly on the principal roads, and who are widening the pavements back to their original width.
We have greatly improved the appearance of the Parley Cross shopping parade, back and front. The weeds have gone, the litter is much less, Elm Tree Walk at the back looks much better than it did. But the biggest improvement to the Parley Cross area is the flower display, summer and winter.
Get out and about and meet people!
There's the Women's Institute, the Mother's Union, the Townswomen's Guild, PACT, the local Churches which have a host of things going on, and the Parley Country Club which is well worth a visit.
There is lots going on at the Memorial Hall, and it is available locally if you want to hold your own event. If you have your own group and would like to be on our website please get in touch.