West Parley Volunteer Awards 2018
28 November 2018
At a recent reception jointly hosted by West Parley Parish Council and the Residents Association, Derek and Pam Cooper were recognised as "Volunteers of the Year". Unfortunately Mr & Mrs Cooper were unable to attend the meeting, but District Councillor Barbara Manuel praised Derek and Pam for their outstanding contribution to the community over more than 38 years.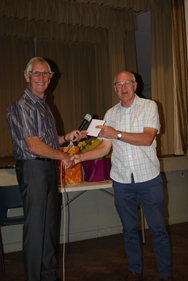 Also receiving recognition was Derek Kearey who has been treasurer of the Neighbourhood Car Scheme since inception in 2013. More than 3700 journeys have now been completed.
Parish Council vice-chairman John Dinsdale highlighted the numerous tasks fulfilled by the various volunteer groups over the past 12 months. In particular he thanked John and Anne Smith and Robin and Sheila Gooden for providing and maintaining a stunning floral display during the hottest summer since records began.
A final award was made to Daniel Morris who is the youngest member of the volunteer group that helps to maintain the appearance of the village.
The Parish Council Chairman then thanked all the volunteers for their continued support in keeping West Parley looking its best and retaining the community spirit of our great village. He ended the formalities by presenting a personal thank you to the Clerk for her commitment to the job, to Cllr Penwill for her determination to continue her role despite major health concerns and to the Vice Chairman for his endless support to the West Parley Residents' Association Volunteers and the Parish Council.
Whats On
Parley Cricket Club Golf Day
Fri 13th September, Dudsbury Golf Course, including 2 course meal and prizes. . . info and entry form
MS Craft Fayre
Sun 15th September, MS Centre, Church Lane, West Parley, 12.30pm to 4pm, 50p entry, stalls, refreshments, bric-a-brac, cakes, books, tables £10 to book call Kay 01202 570300 etc . .more.
Coffee Morning
every Wednesday from 10am - 12 noon at the Parley Sports and Social Club. All residents and friends will be made very welcome.
West Parley Official Guide
The new Parish Guide is ready. . have a look!
You might also want this local map.
Heritage Walk
learn all about West Parley's history as you walk, it is well researched, informative, and has just been updated with lots of new historical information. . more
Parley Health Walks
every Wednesday 10am from the Parley Sports and Social Club, followed by coffee and biscuits! Lets get healthy and have some fun. . more
There's plenty going on in West Parley - click here for the latest.
Register Here
to be updated (now and again but not daily!) on important news and events affecting West Parley. (Registering authorises WPPC to email you on this email address, in respect of all matters pertaining to West Parley, until you withdraw consent.)
Next Meetings
Planning committee
Wed 4th September 2019, 7.30pm
MS Centre, Church Lane

Parish Council
Wed 18th September 2019, 7.30pm
MS Centre, Church Lane

Newsletters
Parish Council update for June 2017
previous newsletters:
Neighbourhood Watch newsletter for June 2018 -
Dorset Catchment Partnerships newsletter for Summer 2019